Theveland Records Andrea Nicole releases a new music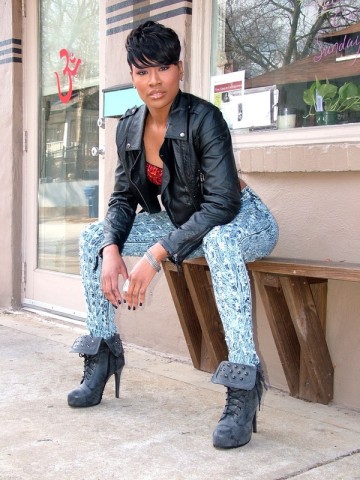 Andrea Nicole is an American singer, songwriter, actress and model. Born in Griffin Georgia and raised in Locust Grove, Georgia. Andrea Nicole knew at a young age that she was destined to sing. She began performing as a child singing in her church choir, community choir, school talent shows and other local events to showcase her talent. Growing up as a child music filled her home. Her father Earnest Bradley played the bass guitar and her older brother Antoine Bradley was also blessed with the gift to sing. Her gift motivates and inspires her to keep pushing to follow her dream to pursue music.
Andrea Nicole became a part of a traveling gospel choir in her early 20's sharing the stage with several prominent gospel artist like Mary Mary, Kiki Sheard, Hezekiah Walker and Vicki Yohe just to name a few. She has performed on prominent platforms such as the Bobby Jones Gospel Show, the Gospel Superfest and the historical Apollo Theater.
As this new chapter unfolds, Andrea Nicole introduces us to her version of modern R&B laced with the edginess of hip-hop. She previously worked with super-producer and songwriter Fedarro (roster includes Grammy Award-winning artist Usher and Day 26 from MTV's Making the Band), and producer Zayvon Sway on her very first release "Miss My Baby" 2014 and So Official Productions and songwriter Jay Lynch on her second release " Last Time" 2016. The latest project "Straight From The Heart EP" 2017 was produced by Josiah "Devon" Edmond, CeddMack and KennyCal. The EP will not disappoint with the hypnotic banger "I Don't Care" and the soulful single "Right Way To Love Me". The Georgia-bred singer spontaneously released the sassy single "Should've" January 16, 2022. She felt that her fans had been waiting long enough to hear from her. She also released the sexy smash single "Good Luvah" February 11, 2022. This single is a little different from her past releases. She switches up the vibe showing her more seductive side. She expresses her feelings about love and enjoying spending quality time with your lover. "Good Luvah" was written by the very talented Keyiara Sallie aka Penkey and produced by super producer 30HertzBeatz.
Media Contact
Company Name: Theveland Records
Contact Person: Todd L Johnson
Email: Send Email
Country: United States
Website: www.empi.re.com