Best All-Day Cafes Bars In London: Audrey's
Audrey's London is an excellent place to dine, with special menus for the day and evening, while special menus for Sunday and drinks are offered. With an option for reservations, takeaway options, and even an all-day order menu, customers can also check out a good range of modern wines and a concise cocktail menu taking inspiration from new-age bistros.
The vibe of being in a café bar restaurant at London Bridge can be a major draw, with elements like music, lighting, decor, and layout all contributing to the overall experience. The excellent atmosphere and ambiance attract customers to the London Café Bar because it's a great place to meet people like family or friends. They can partake in meals without the fancy stuff yet with a welcoming décor that is engaging and friendly.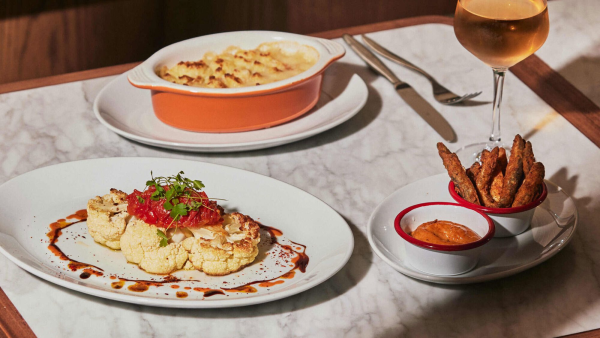 Great Place To Enjoy Meals!
The menu is a significant factor in what sets a cafe bar apart, whether it's the quality of the coffee, the variety of teas, or the creativity of the food offerings. The clients can check out breakfast, lunch, and dinner options made from the best ingredients and organic products sustainably sourced. Great food and drinks with hot and cold options make it a place to be and enjoy the fare the London Bridge restaurant's experienced chefs offer.
Centrally Located
The location of the restaurants in Southwark is a big calling card for most people as they rush and catch on a quick meal or beverage of choice before heading off to work or other places. The restaurant is situated at a vibrant pedestrian square, allowing people to soak in the historical and cultural significance of the Bankside. Being situated in a particularly picturesque or bustling part of town can make a cafe bar stand out.
Excellent customer service has gotten Flat Iron Square restaurant repeat customers as they find it easy to pick up a quick meal during peak hours and get back to their work. Friendly and attentive staff can make all the difference in making the customers feel welcomed and valued.
About the restaurant
Audrey's is a well-loved café bar in London. It's an all-day London Bridge café with great options for all meals of the day served indoors or al fresco. People can come by for some informal drinks served throughout the day, right into the evenings throughout the year—a great place to have an enjoyable dining experience.
Media Contact
Company Name: Audrey's London
Email: Send Email
Phone: 0203 179 2808
Address:1 Flat Iron Square, Union St
City: London SE1 0AB
Country: United Kingdom
Website: www.audreyslondon.co.uk/