Official Announcement: Arya to launch his first NFT with the Minnal platform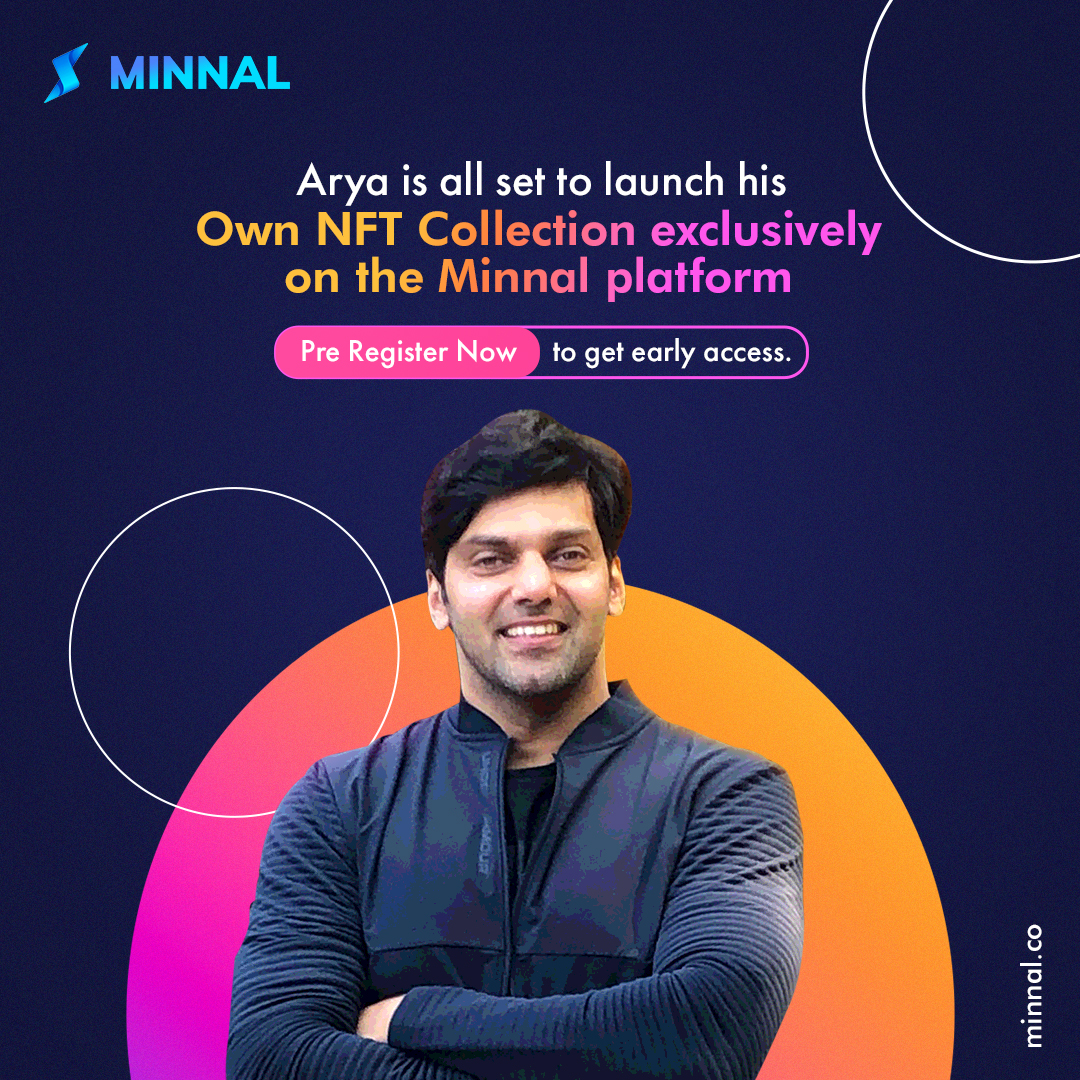 Arya's launch announcement has caused a serious buzz on the platform, so register today, get exclusive early access and open up the gateway for future NFT drop invitations from Minnal before time runs out.
Today, a big proportion of the population is involved with content creation, including the highly paid actors and stars, along with the current generation who are actively curating and delivering unique self-made content on social media platforms. The new-age content creators are, at present, dominating social media, whilst the artists and actors of high caliber are trying to find a middle ground between their performance on the big screen and their involvement with their social handles. Along with these, actors are now also tapping into the investment industry by launching their own NFTs for the crowd.
About Arya
One of the popular names of the Tamil film industry, Arya is an Indian actor, born in Kerala and today has a fan base of millions. He has numerous titles against his name including Filmfare Award for best male debut (South), he also has been added to the Forbes India Celebrity 100 (2015 edition). Now, to give birth to all his community members and fans, he is all set to launch his first-ever NFT on an exclusive NFT platform called Minnal platform.
About Minnal NFT Platform
To launch, most actors prefer a dedicated NFT platform that caters to the entertainment industry of India, while giving numerous benefits to all the users to interact and participate with these NFTs. Minnal is a new entry to the NFT world in its pre-launch stage and is all set to announce its first NFT drop by none other than Arya.
As an NFT platform, the Minnal platform allows all categories of types of entertainers within the industry, to launch their personal NFT with minimal hassle and effort. Moreover, the platform is also known to be the hub that offers the rarest of the NFTs, with multiple perks for users.
Utility Program
With Arya all set to launch his exclusive NFT collection on the Minnal platform, the platform is offering a long list of benefits for all the users, including its utility program. This program allows users to not only bid on the NFTs of their choice but also get opportunities to meet and greet with Arya. Some of the popular perks include invitations to premiere shows, dinner, or lunch with Arya himself, exclusive invites for future events, signed merchandise, etc.
Wait, There's More!
As a user, you can also get exclusive early access to Arya's NFT to get ahead of the pack, but only if you pre-register today.
Media Contact
Company Name: Minnal
Contact Person: Venkatesh CR
Email: Send Email
Country: India
Website: https://minnal.co/