Non-destructive Testing Inspection Services Market Witnesses a Swell as Automation becomes Inevitable
Non-destructive Testing (NDT) is the method of identifying, evaluating, and quantifying defects and deficiencies in a material or structure, without deforming or damaging the test component
The global non-destructive testing (NDT) Inspection services market is experiencing a spike in revenues as various end users are investing making their methods safe for workers and consumers. Primarily used to identify defects, faults, and cracks, the NDT inspection services play an important role in industries that use machinery for automation. Constant checks ensure evaluation of safety to keep the processes up and running.
In the coming years, the growing investments in railroads, aerospace industry, art market, and healthcare sector is expected to fuel market growth. The market is expected to see a high demand for ultrasonic testing, as it is easy to use, portable, and offer precise results in quick turnaround time.
The market is also expected to be driven by the aging infrastructure that requires constant upgradation to ensure safety. Detection of instabilities and component failures help in implementing preemptive measures, reducing downtime and cost due to delays.
Advancements in radiographic testing equipment with industrial CT scanners has also emerged as strengthening trend in the global market. Future Market Insights predicts that the global NDT Inspection Services market will reach a valuation of over US$ 28 Bn by the end 2030.
Download a Sample Report with Table of Contents and Figures: https://www.futuremarketinsights.com/reports/sample/rep-gb-11943
Key Takeaways from Global NDT Services Market Study
Asia Pacific to emerge as the leading regional segment as power plants and manufacturing activities are slated to surge in forecast period
Ultrasound to occupy sizeable chunk in the market as it remains widely used equipment for assessing dysfunctionalities
Oil and gas sector to employ NDT inspection services at a growing rate to avoid spillage, leaks, and other accidents
Government initiatives such as "Make in India", "Industry 4.0", and "National Infrastructural Plan" to boost market growth in coming years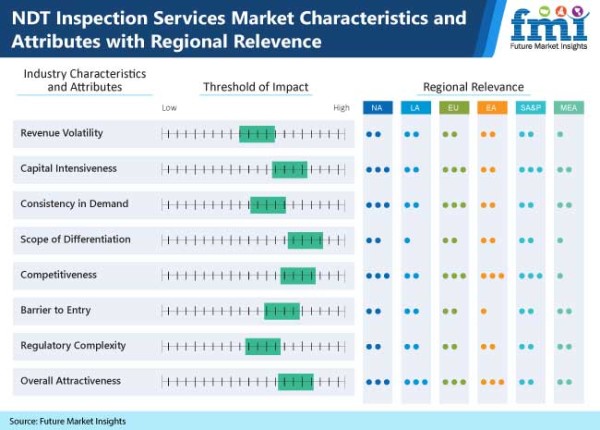 Manufacturing Sector to Lead the Way for Global NDT Inspection Services
The manufacturing sector is expected to grow at an unprecedented pace across regions being a major contributor to global economy. This sector is expected to register a CAGR of more than 6% between 2020 and 2030. As more and more number of manufacturers are trying to automate tasks, they are likely to require testing methods to identify faults in machinery and equipment. Thus, between 2020 and 2030, the NDT inspection services are likely to see extensive application in the manufacturing sector.
The rise of automotive, aerospace, defense, electrical and electronics manufacturing, especially in India and China are expected to boost the uptake of NDT inspection services. Furthermore, stringent laws pertaining to the worker safety across developed nations is also anticipated to lead to a revenue generation for NDT inspection services in the near future.
COVID-19 Impact on NDT Services Market
The manufacturing sector has been terribly hit by the COVID-19 pandemic. Brining the economies to halt and disrupting the supply chains, the pandemic has also prevented manufacturing activities. Stringent norms of social distancing to prevent infections have resulted in reduced manufacturing activities.
Labor migration back to villages, especially in a country like India, has affected the manufacturing activity beyond measure. Furthermore, plummeting consumption as consumers get cost conscious spending and chances of infection via deliveries, it has addled the manufacturing issues. In the light of this, the NDT inspection services market is expected to suffer as third-party vendors stand to lose their contract renewals.
For any Queries Linked with the Report, Ask an Analyst@ https://www.futuremarketinsights.com/ask-question/rep-gb-11943
More Valuable Insights on Global NDT Services Market
FMI's research on the global NDT inspection services market is segmented into four major segments. To begin the market for global NDT inspection services is segmented into offering type, which includes NDT Inspection Services and equipment. On the basis of test method, the market is segmented into visual testing, magnetic particle testing, liquid penetrant.
Media Contact
Company Name: Future Market Insights
Contact Person: Ankush Nikam
Email: Send Email
Phone: +442076928790
Address:3rd Floor, 207 Regent Street
City: London
Country: United Kingdom
Website: https://www.futuremarketinsights.com/reports/ndt-inspection-services-market